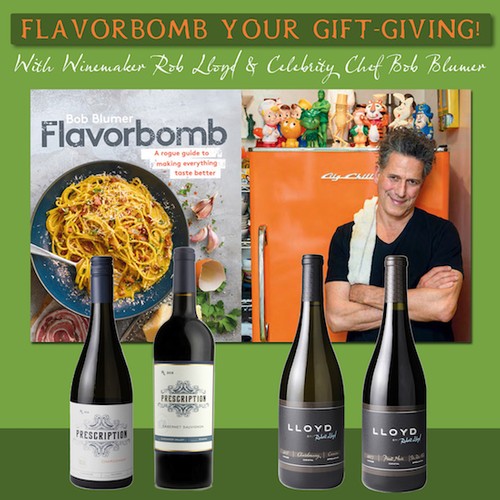 FlavorBomb Gift Collection
If you have friends who love to cook and sip wine, then we have the perfect gift for them. Whether it's a birthday, a memorable holiday, or simply a thank you gift, our Flavorbomb Gift Collection will satiate their inner chef.
The collection includes each of our four wines and Gastronaut and Author Bob Blumer's latest cookbook, Flavorbomb. Blumer is also an eight-time Guinness World Record holder, creator and host of the television series Surreal Gourmet and Glutton for Punishment, and a producer and host of World's Weirdest Restaurants.
Flavorbomb is loaded with insider tips and recipes to achieve the widely addictive flavors served up by your favorite chefs and restaurants!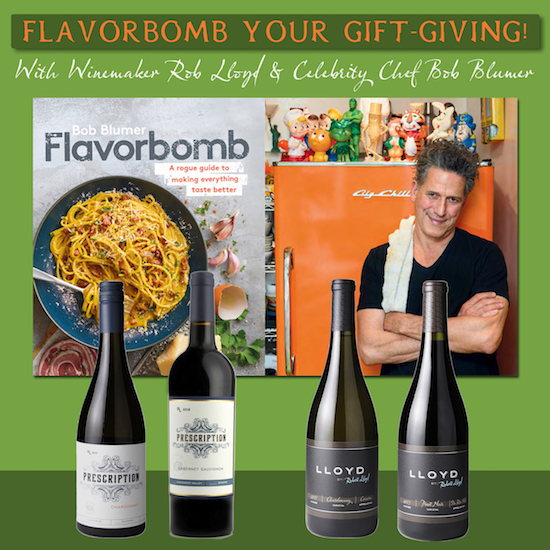 1 bottle - 2019 Prescription Chardonnay, Clarksburg
1 bottle - 2019 Prescription Cabernet Sauvignon, Alexander Valley (Inaugural release!)
1 bottle - 2021 Lloyd Cellars Chardonnay, Carneros
1 bottle - 2019 Lloyd Cellars Pinot Noir, Sta. Rita Hills
1 book - FlavorBomb by Bob Blumer
Shipping included! (Members also receive your Club Discount)